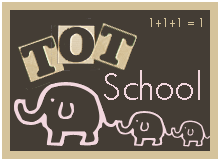 B is 28 months old.
I've been thinking about creating a felt board for B for quite a while now, but I just couldn't decide how I wanted to make it. I saw countless fantastic ideas all over the Web, but what would be the right kind for us? Did I want a large, sturdy board to prop up against the wall? A roll-up version to use on the go?
A hinged board
that stands on its own? One that is permanently mounted? Something that hangs on a hook or doorknob? Individual sets that fit in Ziploc bags? And what about storing the pieces? What would be the best way to keep everything together?
As happens often with me, I became a little overwhelmed with all the choices. I decided to let the project simmer for a while and see what happened. Then, one day when I was browsing the aisles of Target, the pot "boiled over" so to speak. I saw this:
It's a plastic storage bin that measures approximately 10" x 15" x 5" with a recessed lid. (I couldn't find the same thing online to link to, but it was in the children's bedroom/toy organization aisle at the store.) The moment I saw it, I knew it would be the perfect solution for my felt "board" dilemma!
I cut out three felt pieces of different colors to fit inside the recessed lid and to act as interchangeable backgrounds. I ended up making four different play sets, stored in plastic sandwich bags inside the box itself:
Top left: three background pieces in white, gray, and dark blue.
Inside box (clockwise from top left): geometric shapes set, snowman set, bear and bees set, and apple tree/basket set.
Here's the snowman set (inspired by
this post
),
the shape set (which B especially likes to stack in same-shape or same-color piles),
the bear and bees (from a book called
Felt Board Fingerplays
, which we've used to go along with a rhyme called "Here is the Beehive", for counting to five and subtracting back to zero, and practicing spatial relationships like "on", "under", "over", "beside", etc.
),
and an action shot of the apple tree (also inspired by
Felt Board Fingerplays
), which includes ten apples with the numbers 1-10, ten small baskets (not shown) with numbers 1-10 for matching, and one large basket (also not shown).
So far, B doesn't have a very long attention span for this activity, but he does seem to enjoy it for a short time. This is one that his older siblings really like doing with him, too! I do plan on making more felt sets in the future to go in the box, but this has definitely been a great start.