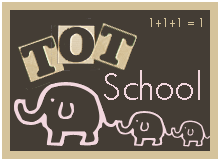 B is currently 30 months old.
The highlight of this past week was making Spring Cookie Cottages together as a family. (See
this post
for more details and photos of this fun activity!)
We were blessed with a couple of days with really nice weather this past week, so we couldn't pass up the opportunity to spend lots of Tot School time outside working on large motor skills.
B is getting quite confident on his tricycle these days, and has wanted to spend lots of time practicing.
We've also enjoyed batting practice,
kicking a ball,
jumping,
and bouncing.
B is definitely happy that Spring is here!