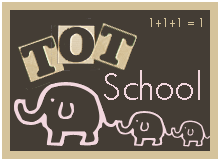 B is currently 30 months old.
I've heard wonderful things about Lauri's products, but this is the first one we've actually purchased. What a great toy! The weight and texture of the crepe rubber is very tactilely pleasing, and the pieces fit together perfectly. B kept wanting to do them over and over again all week, and he really enjoyed the variety of shapes. I've been doing lots of different activities with B that emphasize number recognition, but this is the week it's finally starting to click for him. Coincidence? I think not!
We'll definitely be adding other Lauri puzzles to our wishlist now that we've seen the quality and effectiveness of this learning toy.
To see how much fun other families are having this week, visit
Carisa's blog
.