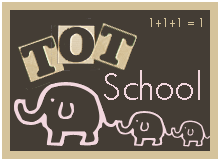 B is currently 30 months old.
One day, I decided to pull out one of our "container buckets"--this one filled with all sorts of plastic containers we've saved:
The idea was for Baby P to enjoy exploring something new, but B decided he wanted in on the fun, too. He rummaged through the bucket for a while, just figuring out what was in there. Then, next thing I knew, he had found five matching halves of tube-style travel toothbrush holders and decided they would make great bowling pins! After several attempts to find the best ball for the game as well as modifying the entryway "alley" with pillow "bumpers", we came up with this arrangement:
He had lots of fun, and also lots of counting practice, since the
best
thing is announcing to everyone how many pins you've knocked down each time!
A little later, I found him "pouring" this ball back and forth between two containers. This was especially entertaining, since the ball in question is one that erupts into electronic sounds each time it hits or is hit by something.
Although I didn't snap any photos, he also spent quite a bit of time sorting all the containers into similar types, opening and closing lids, and hiding small objects inside containers and getting us to guess which one the objects was in. These and other activities with the plastic containers kept B (and Baby P) occupied nearly all day.
Aren't children amazing? Given the right environment and opportunities, they will direct their own learning and practice the things they need with such creativity! I love the chance I get to be reminded of this on a daily basis.
For more fun ideas on how to learn with your tot, visit
Carisa's blog
.